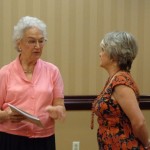 On November 9th, I had the honor of presenting my story about writing One Candle's Light to the Edward Winslow Colony (of the Florida Society of Mayflower Descendants) in Tallahassee.
It was a very pleasant experience because the group expressed keen interest in my story by their questions and appreciation.
The Governor of the Colony, Suzanne Adams, encourages this group's curiosity about their ancestors. Her charming emails and persistence convinced me to make the trip, my farthest yet, from Gainesville to Tallahassee.
My husband Bill introduced the group to the English Reformation's impact on forming the Separatist movement decades before the Pilgrims' journey to the New World. I followed with my testimony of the Lord's "word" for me to write this novel.
The Governor thanked me with a gift of Muttart's book, One Hundred & Eleven Questions & Answers Concerning the Pilgrims. We really appreciated the "warm Tallahassee welcome" and thank Governor Adams for her invitation as well as the group's reception.